SAMSONITE LIFT 2 CARRY-ON WHEELED GARMENT BAG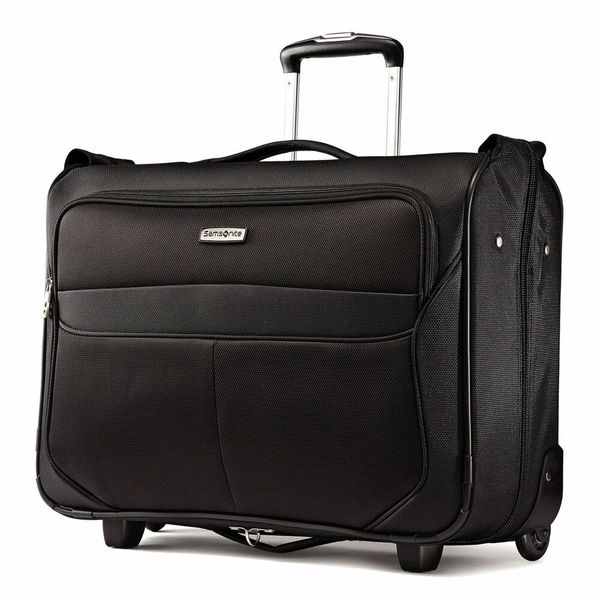 SAMSONITE LIFT 2 CARRY-ON WHEELED GARMENT BAG
• Hanger hook bracket allows for clothes to be moved right from the closet to garment bag.
• Two top mesh modesty pockets for personal items.
• Compression straps keep clothing neatly packed while traveling.
• Extender panel for longer garments, which includes mesh and WetPak™ pockets for additional packing organization.
• Weight: 8.5 lbs.
Body Dimensions: 21.0" x 17.0" x 9.0"
400D x 360D Polyester - Is a man-made fiber produced by the polymerization of the product formed when an alcohol and organic acid react. Loosely defined, denier (D) refers to yarn size: the larger the denier, the bigger the yarn.
400D Ripstop Poly - Ripstop Poly is Combination of rugged Ripstop Polyester and Nylon for durability. Extra strength fibers are woven into fabric at specific intervals to provide exceptional tear strength in a light weight material.
Carry On Sized - Luggage designed to fit in most airlines overhead compartments; may not conform to some airlines carry-on standards.
Inline skate wheels - Are constructed of polyurethane with ball bearings to minimize frictional resistance, offer durability and reduced resistance for smooth rolling.
Push button handle - Locks when fully extended so you can push or pull your case. The handle also locks when fully recessed, greatly reducing the risk of damage when not in use.
Wetpak™ - Zippered compartment which allows you to separately pack damp or soiled items.